We are subject matter expert tech & ERP recruiters, providing our services across Europe.
We focus on bringing together technology and culture to help find the perfect fit for both candidates and clients.
With over 20 years of experience, we use our wealth of knowledge in the local market to give you the ultimate competitive edge by understanding our clients and candidates buying motives, not only on a technical level but on a personal level as well.
After understanding your needs, we will tailor a recruitment strategy that suits your recruitment process.
By understanding your business and your requirements, we are able to reduce the time to hire by delivering the most relevant candidates.
Having an in depth understanding of our markets, we are able to give accurate advice including salaries, tech trends, relocation costs, why top digital business' are losing their best talent.
LikeMinds Client and Candidate references
Denise Sala - Engineering Manager at Zalando SE
Charlie is a professional and approachable recruiter. He kept me up to date throughout the process and helped me land my dream position. I definitely recommend him to any managers searching for their next step.
Peter Jentsch - Head of Technology - Product Area "Shopping" - idealo internet GmbH
Jonathan has been supporting the growth of our technical teams with a particular focus in recruiting Java developers for our Product Development teams in Berlin.
So far the quality of the candidates have been matching what we are looking for both technically and culturally. We have also found that the majority of the candidates we offer are accepting, which I feel is helped with the relationship Jonathan builds with his candidates. Overall, I have found that Jonathan's approach is very professional and personable and one that I would highly recommend.
Ieva Brazdeikė - Engineering Manager, Data Platforms - Ex Idealo Internet
I had the pleasure of working with Jonathan when he was helping us, at idealo, to fill data engineering vacancies in Berlin. His sincere interest to find the best match for the position is, no doubt, one of his biggest strengths. His professionalism, the pace of reacting to feedback or changes in requirements is impressive. Not to mention timely communication and a rich pipeline of the candidates in very hot and demanding area. More than just being very professional, positive, friendly and curious, I found that Jonathan always shared excellent insights about the candidates, so I am confident to say that he is a trustworthy speaking partner. I always felt his support and assistance. I would highly recommend Jonathan as an excellent recruiter with great interpersonal skills-set, professional approach and a wide range of international candidates on the list.
Strahinja Mišić - Software Engineer - Idealo internet
Charlie is one of the best recruiters I had the pleasure to work with. He is equal parts friendly and professional. What I appreciate the most about him is how genuine he is. He understands IT industry well, and he made sure that I have all the necessary information regarding my new employer. He really looks for your best interest. I would highly recommend Charlie to any software engineer looking for a new opportunity.
Can Yegane - Software Engineering - Manager at Wayfair
Charlie has been a close contact and helpful partner when it came to finding my new position. He kept me up to date throughout the process and is someone I can always rely on, if I have any questions or need anything chasing. I would recommend him to any engineering managers who are interested in a career change.
Igor Shandrov - Software Engineer - Tier Mobility
Taylor is one of the most responsible, considerate and reliable persons I've ever been fortunate to meet. He was always super friendly, demonstrating top notch communication skills, he was professionally supportive, easily reachable and able to propose effective solutions to a number of sometimes very complicated problems. When necessary, he connected me with specific people who were able to answer some specific questions of mine and I want to point out that all that was done in a timely manner. To sum it all up, I can say that not only did he help me find a brilliant company that I dreamed of, explained clearly to me what the company does and who they were looking for back then but also when I got an offer from that company he did a real good job to guide me through the relocation process, helping me with some relocation-related issues that I faced on my way to Berlin. All in all, it's safe to say that his constructive solutions, mental support, that's, his contribution to my success and are very hard and I would rather say, absolutely impossible to underestimate. Thank you a lot Taylor, it was a great pleasure working with you!
Adam Horowitz - ex Product Design Lead - Memmo.me
I worked with Taylor when building out our product team at memmo.me. Taylor was always willing to go the extra mile to get a hire through - which is very important when you are fighting for talent in a competitive market. But I think the main qualities that really set Taylor apart as a professional are other things. For one, he is always willing to work iteratively, and update specifications as we saw changed needs or something working better, which made us faster but also more nimble and ready for change. Lastly, the fact that so many of the people Taylor helped us hire still stay in touch with him long after they started their job is a testament to how skilled he is at building genuine relationships that make you (as a hiring manager) and your company look good. If you have hiring needs I know no better partner for your product/engineering team than Taylor. I'm looking forward to when I get to work with him again.
Andrii Kinash - Leading Engineering & Data Science Teams - Wayfair
I had a great chance to work with William. He helped me find a position that fully matched my work, team, and compensation expectations. During that process, William truly understood my needs and preferences. He was always available in case of any questions and provided me with great tips that helped me get my wish job. I highly recommend William and his professional recruitment services.
Bora Ozbayburtlu - Principal Manager, Product Management - Microsoft
William is an entrepreneurially-minded, impressive recruitment professional. We worked with him for multiple opportunities in Zalando and Wayfair. During our engagement, he asked every critical question to understand what was in my mind and to discover what direction could be the most effective while consulting for my next career step. I worked with many people in the past, but William is different. Rather than just grabbing attention and evaluating the skills or requirements, he consults for the best position to maximise the utilisation of candidate skills and the added value to the organisation in return. He is a long-term thinker, provides detailed long-term pros and cons, looks from your perspective and helps you evaluate. I'm thankful to William for helping me with one of the most important decisions I took that shaped my further career. It wasn't easy. With a high level of confidence, I strongly recommend William, and I'd always jump at the opportunity to work with him again.
Gökalp Gürbüzer - Senior Software Team Lead - AUTO1 Group
Oliver excels at not only matching right people with the right organizations, but also supporting people throughout the process. During most of my process, I wasn't really sure about relocating to another country; and whether it is the right time to do so. Oliver helped me in my decisions by not answering my questions; rather asking the right ones. His support was also unprecedented before and after the interviews, feeding me back and giving hints about the next interview, what to expect and what not to. I don't know how he even found me in the first place but I'm glad he did; and I wholeheartedly recommend Oliver's expertise to anyone who is considering a new job and relocation.
Ufuk Bayir - Lead Developer - Idealo Internet
Oliver is a very friendly, open-minded, supportive and professional recruiter, who helped me to find the ideal role at a great company. He didn't just connect me with the company but always had time for me when I had questions. We had a lot of great conversations together. Most important of all, he is a person I can trust because everything was the way he explained it, and there weren't any unexpected surprises later on. It was great working with him.
Our Recruitment process
Technical deep dive
Having an in depth conversation to understand cultural and technical requirements.
Identification
Reaching out to our network of passive and active candidates in the market.
Qualification
Pre-screen telephone interview with each candidate ensuring the perfect match
Process Management
Arranging all stages of the interview process ensuring each candidate has all the preparation for every interview
Interview Debrief
Ensuring that each candidate gets the chance to give their feedback which is then provided to the client
Offer management
With our careful approach throughout the process, we take pride in our success rate when delivering offers so that no one's time is wasted
After sales
Once the candidate has started, we hold regular performance reviews to ensure that both candidate and client are happy.
Technical capabilities
The tech stacks we cover is where LikeMind Recruitment will help to enrich and grow talent pools for our clients by providing permanent and contingent recruitment solutions.
Our mugshots
Say to our founders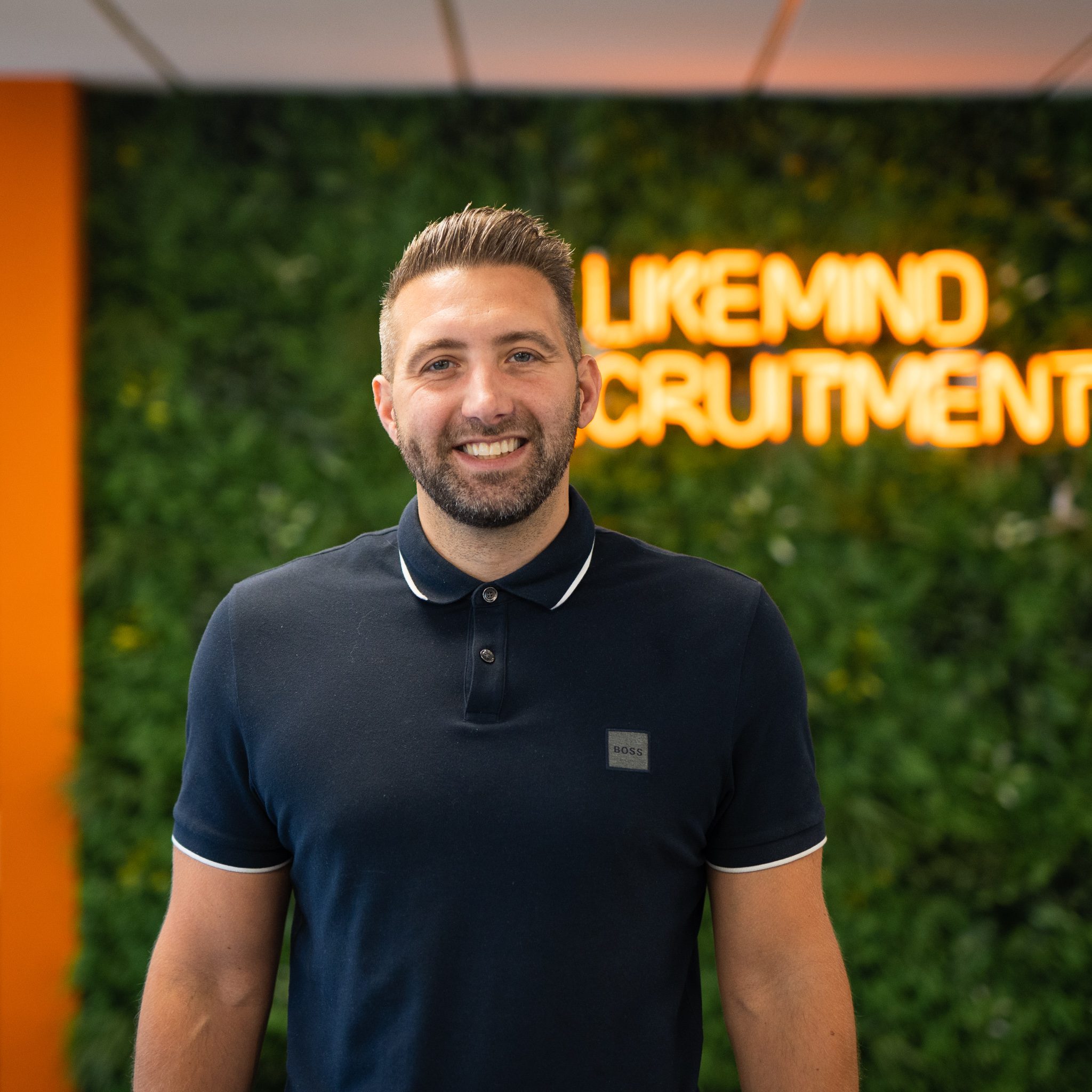 I have a huge thirst for competition so when I had to hang the football boots up due to an injury I turned to Golf.
When I'm not chasing the Tiger Woods dream, I am a family man who enjoys nothing more than lighting up the BBQ and entertaining guests.
Being the "old dog" in recruitment I have worked a number of markets in my early years, with most of my success in the Telecoms market across Germany. In recent years I have grown my network in the Berlin Digital and Data areas where I have been supporting large e-commerce brands.
I am quite materialistic and love the finer things in life, so I'd love to get to a point where I am comfortable with my finances so that I can give my family the things they deserve.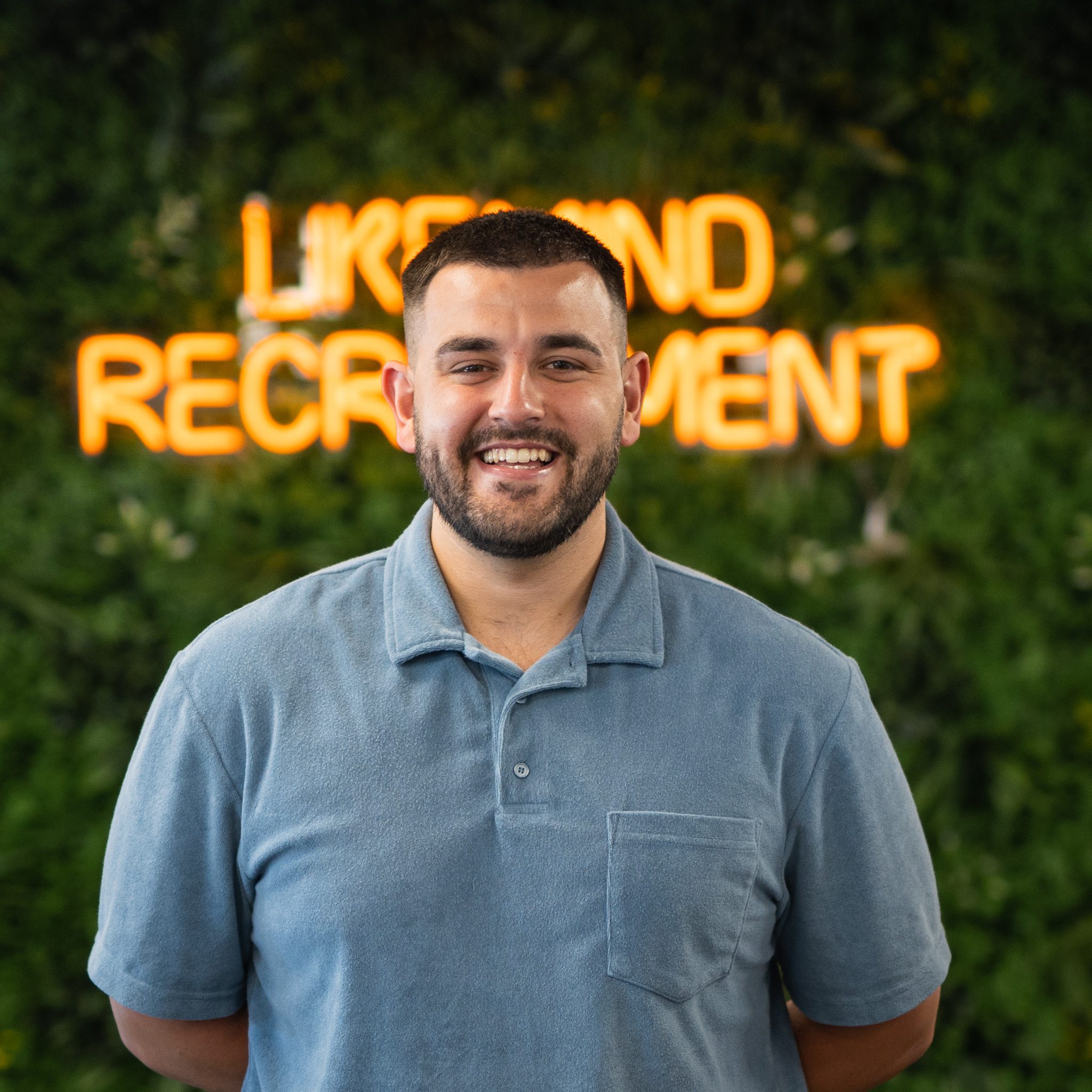 Good to meet you, I'm Oli! Outside of work I am a big football fan and have been a season ticket holder at West Ham for over 10 years, so I am used to Heartache. I am into most sports but I am extremely injury prone, so now I am just extra competitive in Recruitment.
Here at LikeMind I focus across the digital space providing huge support to companies going through hypergrowth, hiring both local and international candidates to relocate to Berlin. I would say my area of expertise would be in the Front End Market, but I have been around the block enough now to understand most positions within the development space.
Now that my dream of a footballer is over 😂 I'm fully focused on creating a solid future for me and my fiancé! The dream for me is to be retired at 50 but I think I love work too much for that to actually happen!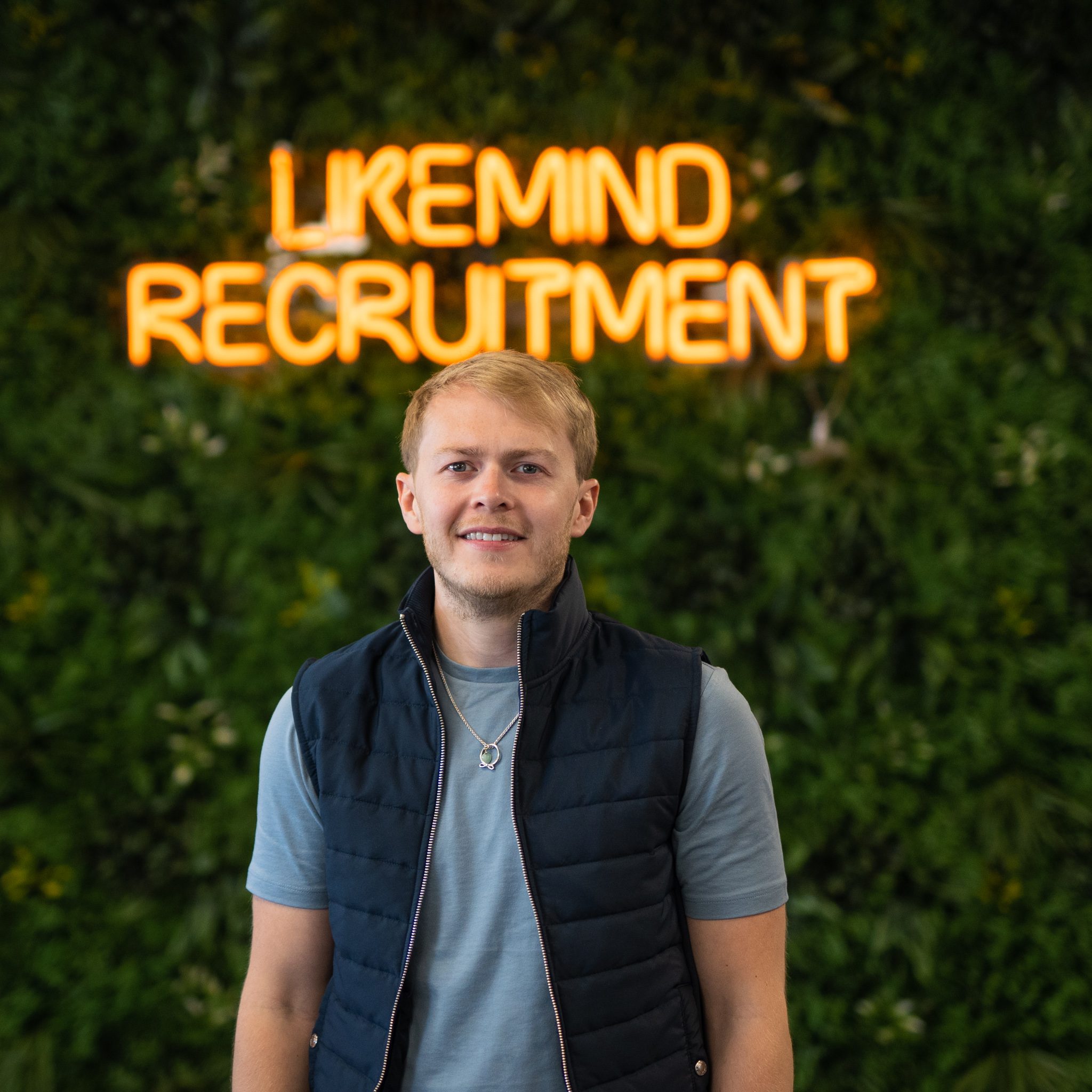 Hey, my name's Will, I am on a mission to find the world's nicest spicy sauce! I'm a big foodie, if I am hungry you will know about it 😜. Aside, from food, my biggest hobby and interest is anything that goes fast!! HUGE car fan, always have been and always will be!!
Here at Likemind, I help build and manage our Berlin client portfolio. Guiding, training and mentoring our consultants to make sure we give the best service to everyone we engage with whether it's a candidate or client! Honesty, detail and listening are the key traits I stand by when I put my recruitment hat on! 🙂
I want to build an empire and solid foundation in the Europe tech community for years to come! Becoming the go-to agency clients speak to when it comes to helping them with their tech hires. Aside from recruitment, I want a happy and adventurous life where I can meet lots of fun and energetic people!
Once you register with us you will be contacted by one of our team to discuss your needs, experience and career objectives.
LikeMind are proud sponsors of the Sophie G Fund via Basildon MIND Charity.
This fund facility offers immediate one-to-one counselling for young people in crisis, and on many occasions, LikeMind has helped sponsor local events.